01 SPECIFICATIONS
Raxtent is one of the tent manufacturer leader in China market, we have been focus on the dome tent field for many years. The geodesic dome tent is best for outdoor events and meeting and party, for event, the most popular size is between 20M to 30M, the space is from 314sqm to 706 sqm, it's enough to hold a big event outdoor. The 20M dome tent, we build it in Shanghai for an important meeting to welcome the visiting and the big boss.
Since RAXTENT established, we have made many big geodesic dome tents for BMW, Audi, BENZ and other brands, we also have the marquee tent shape which is best for event as well, such as curved tents and aluminum frame tents with glass wall around. We focus on dome tents ahead of other companies in China and our dome tent design and sevice are highly recognized by customers.

Size: 20M, which is 314 sqm, best sell and most popular size for event.
Material: Coated white steel tube and covered with PVC fabric.
Feature:Waterproof, fire resistance, DIN4102 B1/M2, high and low temperature resistance.
Capacity: The 20M geodesic dome tent can hold 100-300 people with chairs and tables.
Accessory: Glass door, AC system, floor system, LED lights etc..
Wind and Snow load:  Windload 100KM/H and snowload is 75KG/SQM.

The 20M geodesic dome tent for outdoor event was made of coated white steel tube and covered with PVC fabric, it becomes more and more popular to use the dome tent for big event, and 20M dome is the best sell and most popular size.
We have made many bigger size domes for outdoor event, we cooperated with AUDI, BENZ, VIVO and other famous brand in China, they have high requirements for product quality, and many reports or documents for the structure, for all of this problems, we can do!
We
have cooperated with the raw material factory for many years, so the quality of the raw material can be guaranteed. If your order is urgent, we can try to arrange for you in advance.
Dome Frame
The frame of the 20M geodesic dome tent is connected with long screw for the big dome, the regular color of the steel is coated white, while it can be coated with other colors according to the requirements of clients as well.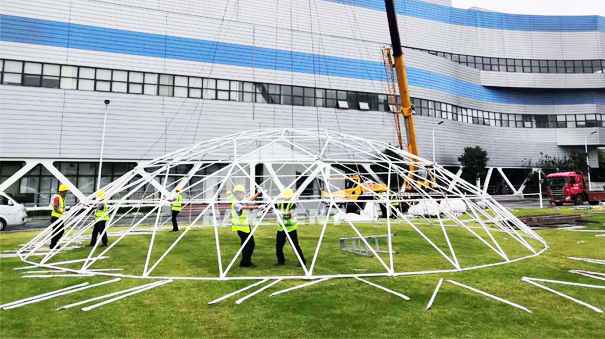 Dome Structure
The profile of the 20M geodesic dome tent structure should be 38mm diameter to keep the dome tent strong and stable, it has several size of the tube, the longest and shortest is much more difference.
Geodesic Dome Tent for Event
The PVC fabric cover can be white and transparent, we use high frequency welding machine to weld the fabric together. The function of the white PVC is UV-resistance, flame retardant as there is a black-out layer inside of the fabric, so the geodesic dome tent is best for outdoor event.
03 QUALITY GUARANTEE

The steel tube is the best chioce for the 20M massive geodesic dome tent for outdoor event for the high quality.
Our engineers and workers all have beening working with our company for 5 to 6 years since RAXTENT established, they are professional and hard working, they do every details carefully because they know the importance of quality and repute to our factory.
04 EVENT DOME TENT
The white PVC fabric geodesic dome tent is best for outdoor event as the inside of the dome surface can used be projection with the LED light system.
For event, other accessory maybe including glass door or circle PVC door, inside of the geodesic dome tent, it has enough space to set the stage, sound system and chairs and tables etc..
5 CUSTOMER RECOMMEND
We have excellent trading team,can deal with anything about the event dome tents at any time.
Customer Recommend
The dome tent is very high quality, we have puchased the domes from RAXTENT for about 4 years, good quality and best service.