01 SPECIFICATIONS
RAXTENT is a leading glass dome tent manufacturer in China and with many renowned cases, such as 6M luxury geodesic glass dome hotel in Jordan and 5M glass dome cafe in Kuwait. RAXTENT glass dome tents are widely used for luxury hotels, family resort tents, yoga or fitness spaces, and restaurants. This 12M glass dome tent is ideal for restaurants, which is easy and quick to install, environmentally friendly, lightweight, energy-efficient, come in a variety of sizes, and is built to last many years.

Size: 12M diameter, 6M height, about 113 sqm.
Material: The main material of the 12M glass dome tent is aluminum alloy frame and covered with transparent tempered glass.
Capacity: The 12M glass dome tent can hold 80-150 people and a certain number of different sizes of dining tables.
Accessory: The glass dome accessory includes double-open glass door, tempered glass windows for options, etc...
Wind and Snow load: The glass dome with sturdy structure has a wind load of 100 KM/H and a snow load of 75 KG/SQM.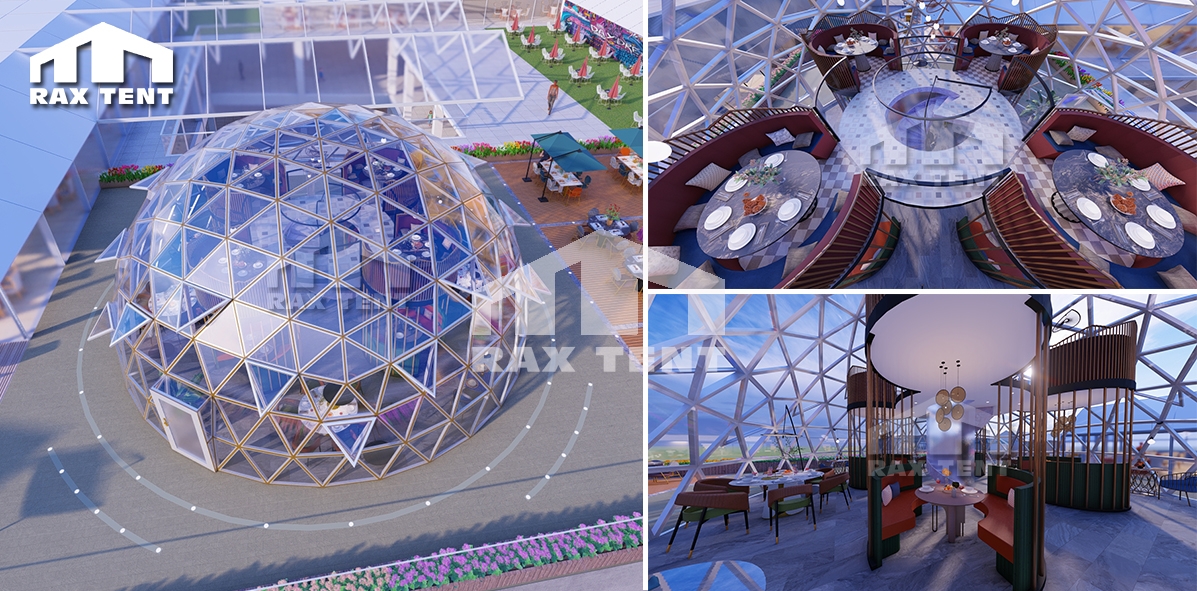 The glass dome tent structure is aluminum alloy and covered with tempered glass, most customers choose to install the glass dome tent semi-permanently, so we strictly select the raw material manufacturers. We have cooperated with aluminum manufacturers and tempered glass manufacturers for many years, and the material quality is guaranteed.
Frame
The aluminum alloy raw material manufacturer is FengLv Aluminum, which is the first in the China aluminum industry and the quality is trustworthy. The aluminum is made into triangles, which can be spliced into pentagons, and hexagons for easy installation and stable structure that can be used for at least 15 years.
Glass Cover
The glass dome is covered with tempered glass which is 100% waterproof, fireproof, UV-resistant, insulation, soundproof, that can be single-layer glass, hollow glass, laminated glass, Low-E glass, and you can choose different colors according to your project.
Glass dome for Restaurant
The combination of the geodesic form, aluminum alloy frame, and tempered glass make the glass dome super strong against the elements. The unique 12M glass domes are widely used for restaurants and events, which are energy-efficient, low investment, and high return.
03 MANUFACTURE DATA
RAXTENT is the earliest dome tent manufacturer and one of the best glass dome tent manufacturers. Our products have undergone 4 update iterations and are still improving our products to provide customers with the best quality products.
04 CERTIFICATES
We have patents certificates on the glass dome tent to protect our powerful products and technology from being imitated. Patented product counterfeiting is not allowed.
05 CUSTOMER RECOMMEND
RAXTENT is dedicated to offering stylish, functional, energy-efficient and environmentally friendly outdoor living space solutions, we guarantee quality.
Below is the real installation case in China, the glass dome tent used for restaurants.
Customer Recommend
The glass dome tent is extremely good and elegant. Since the tent opened, it has attracted many customers. I'm super satisfied with the product.
I recommend RAXTENT!